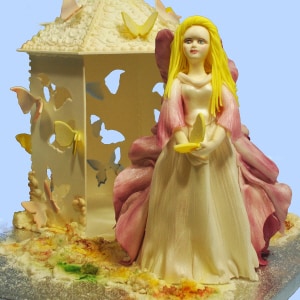 Students learn how to create a 3-D Modeling Figure and make a pastillage gazebo.
 Duration:
Four, 3 hour class – one each week.
Tools Required :
Pizza cutter, paring knife, non-stick rolling pin, X-acto knife, piping bag, tips, #1, #2, #3, #13, brushes #1, #2, #3, 6″ ruler; cutters: 3 sizes calla Lily cutter, small butterfly or small flower cutter, embroidery scissors, people mold, textured rolling pin, veiner tool and gum paste or Modelling tools.
Materials Included:
Royal Icing, fondant, gum paste, faux cake and board
Prerequisite:
Intermediate Cake Decorating and Gum Paste I

This post was written by
monika1974
, posted on August 6, 2015 Thursday at 10:22 pm
Recently added classes

Check additional classes added recently

-------------------------------------------------

New Classes

Class Schedule for Spring 2019

Spring 2019 Class Schedule - Download/Print

-------------------------------------------------

How-To Videos

Watch all our many videos

-------------------------------------------------

We'd Love to Hear from You…

Do you have any questions, comments, feedback for us? Click here to get in touch.

-------------------------------------------------