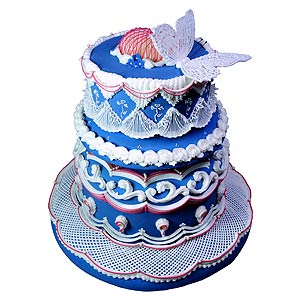 Bring back the charm of English Piping on your next masterpiece. Join us in this class and master the technique of over-piping, scallops, barrels and stringwork extensions.
Duration: Four, 3 hour classes
Tools Required: #8 or 10″ piping bag with coupler, tips – #101s/261, #1 to #5 plain, #13 to #16, #349, #362, small palette knife, scissors, paring knife, ruler, tape measure, dish towel, #2 round brush.
Prerequisite: McCall's introduction & Intermediate or a strong working knowledge of piping and rolled fondant work is essential.

This post was written by
Olga Chayka
, posted on December 8, 2017 Friday at 9:54 am
Recently added classes

Check additional classes added recently

-------------------------------------------------

McCall's Class Schedule – Winter/Spring 2020

How-To Videos

Watch all our many videos

-------------------------------------------------

We'd Love to Hear from You…

Do you have any questions, comments, feedback for us? Click here to get in touch.

-------------------------------------------------